Prismatch
Ved at købe varen hos os er du altid sikret den bedste pris! Finder du varen billigere inden køb, skal du blot indsende et link til os på info@mammashop.dk inden at du afgiver ordren. Herefter matcher vi prisen!
Sådan gør du:
1) Find varen billigere et andet sted.
2) Sikre dig, at shoppen overholder vores betingelser nedenfor
3) Tag kontakt til os på telefon eller mail. Husk at have et link klar hvor produktet er billigere.
4) Vi nedjusterer beløbet på din ordre efterfølgende!
Betingelser:
- Shoppen skal være dansk.
- Varen skal være på lager.
- Varen må ikke være brugt eller andet der gør, at varen sælges til en speciel pris.
- Varen skal være i samme mængde og stand.
- Prisen der matches ud fra er priser inkl. fragt.
OBS: Prismatch ydes ikke efter at ordren er afgivet. Det er derfor vigtigt, at du retter henvendelse til os med henblik på at få prismatch før at du gennemfører din ordre.
Close
Hoppekids PREMIUM Height-bed 90x200cm with table top and sloping ladder - Flexible insert bottom - White
Description
Product Reviews
Pricematch
Delivery
Returning
Need help?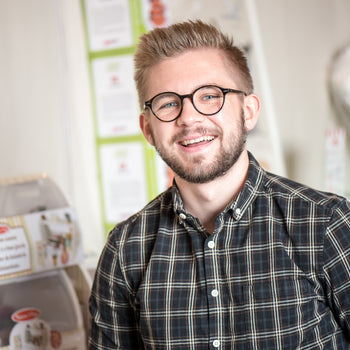 Customer Service Team
- We are here to help!
Description
Varenummer:

HOP-PRE-B24-1
The high bed with a table top from Hoppekids is perfect for the bigger child who want extra floor space in their room. With the high bed you really exploit every square meter in the room. This bed is delivered with a flexible insert bottom with molded slats. The curved slats increases comfort because the slats individually adjusts to the pressure from the body. This helps keep the spine straigt when your child is asleep - even if you child grows a lot. Under the bed, there is extra floor space and the included tabletop provides a practica and spaceious workspace. The tabletop is as long the the bed and there is plenty of space for storage under the tabletop. The height of 135 cm under the bed ensures that it does not feel stuffy even though it is easy to create a cozy cave atmosphere. All of the ladders from the PREMIUM-series has millings and deep steps. This provides a better foot hold on the trip up the ladder. It is also possible to buy handles if there is a need for extra safety. The bed is swan-labeled The bed is, like the rest of the PREMIUM-seriee, swan-labeled. The swan-label is your guarantee that the product complies to all of the EU-standards within children's furniture and is tested on these.. At the same time, the environment has been taken into account both during the procurement of raw materials, during the production, in the life of the product and when the product must be disposed. The surface is treated with an environmentally cautious, water-based varnish, free of unnecessary chemicals and harmfull materials. A bed with lifetime warranty The PREMIUM-series from Hoppekids has a lifetime warranty. A lifetime warranty covers manufacturing defects. Read more about lifetime warranty at hoppekids.com, where the bed must be registered 3 months after the purchase at the latest . The big size 90x200 cm provides plenty of space to grow and the child can use the bed until they are ready for a teenageroom. It is also big enough for you to lie in the bed and read out loud. The high bed is easily converted into a junior bed or one of the other beds from the PREMIUM-series, if you buy a new module. The ladder can be mounted on either the right or the left side of the bed. The bed: Materials: Pine wood. Treatment: Waterbased varnish, free of harmfull materials and unnecessary chemicals. Cleaning: Can be washed with a hard wrung cloth and mild soap water. Measurements mattress: 90x200 cm. Measurements bed: L209xH177xD134 cm. Measurements under bed: 135 cm. Max load of the total bed: 100 kg. Max height of mattress cf. safety standards: 12 cm. Color: White Bordpladen: Measurements: B:207xH1,9xD60 cm. Materials: FSC®-certified (FSC-C109484) MDF. Treatment: Waterbased varnish, free of harmfull materials and unnecessary chemicals. Cleaning: Can be washed with a hard wrung cloth and mild soap water. Color: White
Kundeservice

E-mail: info@mammashop.dk

Svar indenfor få timer!

Telefon: 36 93 90 22

Mandag-fredag: 10-15

E-mærket

Vi er e-mærket - din garanti for en sikker nethandel!