Prismatch
Ved at købe varen hos os er du altid sikret den bedste pris! Finder du varen billigere inden køb, skal du blot indsende et link til os på info@mammashop.dk inden at du afgiver ordren. Herefter matcher vi prisen!
Sådan gør du:
1) Find varen billigere et andet sted.
2) Sikre dig, at shoppen overholder vores betingelser nedenfor
3) Tag kontakt til os på telefon eller mail. Husk at have et link klar hvor produktet er billigere.
4) Vi nedjusterer beløbet på din ordre efterfølgende!
Betingelser:
- Shoppen skal være dansk.
- Varen skal være på lager.
- Varen må ikke være brugt eller andet der gør, at varen sælges til en speciel pris.
- Varen skal være i samme mængde og stand.
- Prisen der matches ud fra er priser inkl. fragt.
OBS: Prismatch ydes ikke efter at ordren er afgivet. Det er derfor vigtigt, at du retter henvendelse til os med henblik på at få prismatch før at du gennemfører din ordre.
Close
Description
Product Reviews
Pricematch
Delivery
Returning
Need help?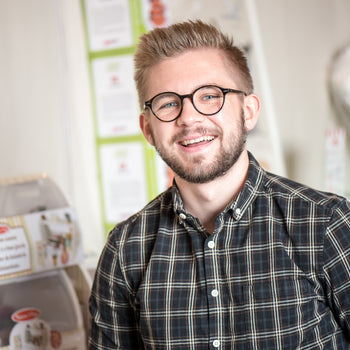 Customer Service Team
- We are here to help!
Description
Varenummer:

HOP-DELUXE-A3-1
This nice MAJA DELUXE junior bed with 1 high and 1 medium board from Hoppekids is a lovely bed. The boards with the beautiful gives the bed a classic look with a modern twist. Combine the bed with some lovely accessories to create the perfect sofa bed for the children's room. The DELUXE-beds from Hoppekids is the classic sofa bed with a modern twist. There has been payed attention to the details - both regarding the bed and the accessories. This brings both comfort and quality to the top. All of the DELUXE-beds are available in size 90x200 cm. The MAJA headboards are available in three different heights: short– 48 cm, meadium – 64 cm og tall 90 cm. This bed includes 1 tall board and 1 medium board. The accessories for DELUXE are carefully selected and focus has been on optimizing the space under the bed. For example, a brilliant pull-out bed can be bought in addition, which both has extra and big, spacious storage drawers. The pull-out bed is available in two depths which means that you can choose how much space you want in front of the bed. It is possible to add a removable rail. This means, that the DELUXE can be used as the first bed after the cot. The rail can be removed during the day or permanently mounted in a discret manner which does not leave visible marks in the bed. Materials: Pine wood and MDF The wood is FSC® (FSC-C109484)-certifed. Treatment: Waterbased varnish, free of harmfull materials and unnecessary chemicals. Cleaning: Can be washed with a hard wrung cloth and mild soap water. Measurements: B216xH90xD96 cm. Size of mattress: 90x200 cm Height under bed: 35 cm. Color: White
Kundeservice

E-mail: info@mammashop.dk

Svar indenfor få timer!

Telefon: 36 93 90 22

Mandag-fredag: 10-15

E-mærket

Vi er e-mærket - din garanti for en sikker nethandel!