Prismatch
Ved at købe varen hos os er du altid sikret den bedste pris! Finder du varen billigere inden køb, skal du blot indsende et link til os på info@mammashop.dk inden at du afgiver ordren. Herefter matcher vi prisen!
Sådan gør du:
1) Find varen billigere et andet sted.
2) Sikre dig, at shoppen overholder vores betingelser nedenfor
3) Tag kontakt til os på telefon eller mail. Husk at have et link klar hvor produktet er billigere.
4) Vi nedjusterer beløbet på din ordre efterfølgende!
Betingelser:
- Shoppen skal være dansk.
- Varen skal være på lager.
- Varen må ikke være brugt eller andet der gør, at varen sælges til en speciel pris.
- Varen skal være i samme mængde og stand.
- Prisen der matches ud fra er priser inkl. fragt.
OBS: Prismatch ydes ikke efter at ordren er afgivet. Det er derfor vigtigt, at du retter henvendelse til os med henblik på at få prismatch før at du gennemfører din ordre.
Close
Description
Product Reviews
Pricematch
Delivery
Returning
Need help?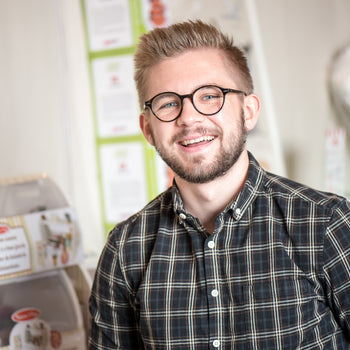 Customer Service Team
- We are here to help!
Description
Varenummer:

HOP-36-2750-PT-07M
The curtain from PETS universe, fits both the BASIC and PREMIUM beds from Hoppekids. The curtain creates a safe little cave under the bed, that invites for both games and relaxation. When the game picks up, the cave becomes a magical universe where the imagination is the limit. Watch how the cave can hold secrets, tales and fairytales when the fantasy takes over. The PETS universe, from Hoppekids, has focus on pets and no matter if your child prefers dands or cats, then the universe is perfect. Use the curtain alone or tandether with other lovely textiles from the series. The curtain is in a simple design with lovely pawprints and a nice dark grey color. The curtain can be washed at 30 degrees and is made of Oeko-Tex certified meter products of cotton. The curtain is available for both half-height beds, bunk beds and medium height beds, and is available in the dimensions 70 x 160 cm and 90 x 200 cm, therefore, remember to choose the right size. Universe: PETS. Color: Granite Grey. Wash: Withstands being washed at 30 degrees, but it must not be put in the dryer. Materials: Cotton of Oeko-Tex certified meter products. OBS: This product is only the curtain, pillows and other accessories are bought seperately. Remember to choose the right bed size.
Kundeservice

E-mail: info@mammashop.dk

Svar indenfor få timer!

Telefon: 36 93 90 22

Mandag-fredag: 10-15

E-mærket

Vi er e-mærket - din garanti for en sikker nethandel!