Prismatch
Ved at købe varen hos os er du altid sikret den bedste pris! Finder du varen billigere inden køb, skal du blot indsende et link til os på info@mammashop.dk inden at du afgiver ordren. Herefter matcher vi prisen!
Sådan gør du:
1) Find varen billigere et andet sted.
2) Sikre dig, at shoppen overholder vores betingelser nedenfor
3) Tag kontakt til os på telefon eller mail. Husk at have et link klar hvor produktet er billigere.
4) Vi nedjusterer beløbet på din ordre efterfølgende!
Betingelser:
- Shoppen skal være dansk.
- Varen skal være på lager.
- Varen må ikke være brugt eller andet der gør, at varen sælges til en speciel pris.
- Varen skal være i samme mængde og stand.
- Prisen der matches ud fra er priser inkl. fragt.
OBS: Prismatch ydes ikke efter at ordren er afgivet. Det er derfor vigtigt, at du retter henvendelse til os med henblik på at få prismatch før at du gennemfører din ordre.
Close
Description
Product Reviews
Pricematch
Delivery
Returning
Need help?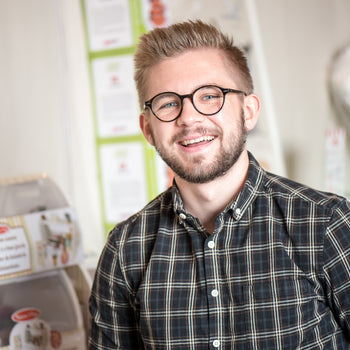 Customer Service Team
- We are here to help!
Description
Varenummer:

BOB-01-007-024-220
Every child loves bObles Dino – and so will you!
Its hard to find another toy that sparks as much joy for so many years as bObles Dino does.
bObles Dino is simply amazing at stimulating both your child's imagination as well as motor skill development. Both baby, toddler and child can use it as a fun slide and exciting climbing frame.
The small part of Dino has a ridged side and is therefor great at sparking the baby's senses when played with. The same part works great as a staircase leading up to the fun slide that tickles and brings laughter whenever its used.
With its simple Nordic design and functionality bObles Dino is a must have for every child's room. Use it as a stool making the climb up to bed fun and playful or lean up against Dino when reading your favorite book enjoying the danish hygge.
bObles Dino is also the perfect piece to a fun and challenging obstacle course and can be placed on different sides making it a new and fun experience.
The slide is not only for babies and children to use, but cars, balls and barbie dolls also enjoy tumbling down Dino's back.
Measurements: H 34, L 70, W 24 cm
Kundeservice

E-mail: info@mammashop.dk

Svar indenfor få timer!

Telefon: 36 93 90 22

Mandag-fredag: 10-15

E-mærket

Vi er e-mærket - din garanti for en sikker nethandel!